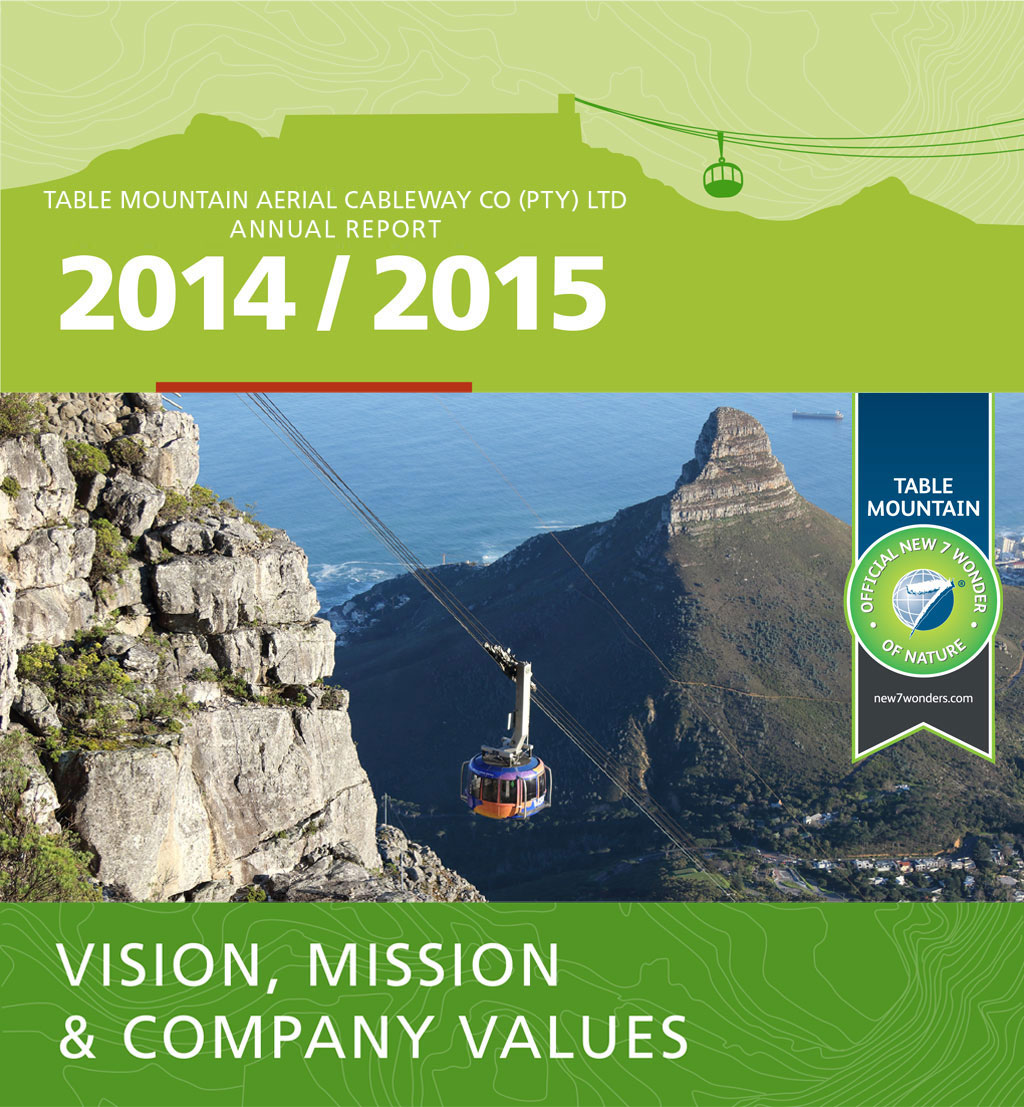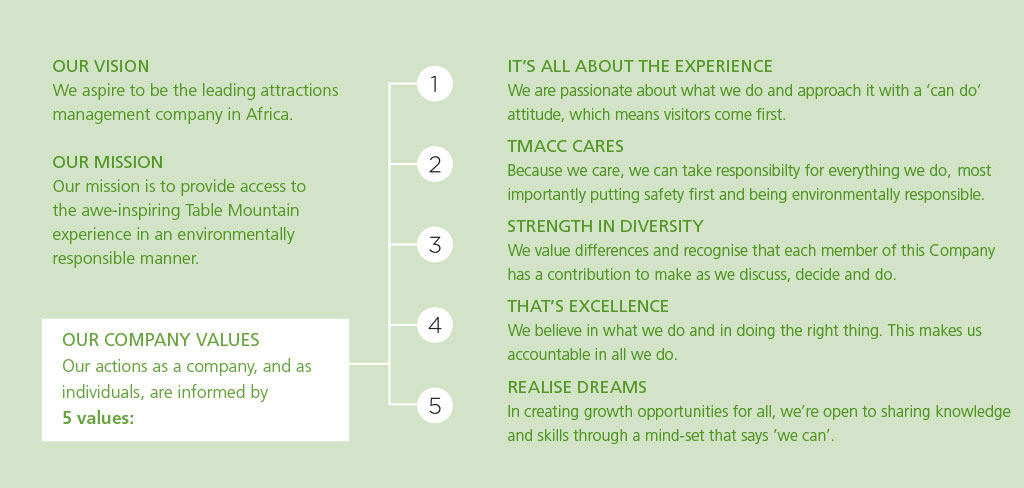 Sabine Lehmann, Managing Director, of Table Mountain Aerial Cableway

The past financial year has been a celebratory one for us. Firstly, we celebrated 85 years of operation, having opened for business in October 1929, and secondly, we celebrated another record year with 909 000 visitors, representing a modest 2.5% increase in visitor numbers year-on-year.
We also celebrated being awarded Diamond Heritage status for our environmental management system. This is only awarded to businesses that have proven, long term sustainable environmental excellence and we are very proud to be the only attraction in South Africa with this status. This accolade can only be achieved if we work together as a team with our staff and our suppliers.
We are very proud of the fact that more than 90% of the items sold in our retail outlets are locally made, thereby supporting small businesses, often single mothers and disadvantaged people who are busy making a life for themselves by making goods that can be sold in our retail outlets.

Our 140 full time staff and more than 100 contract staff are integral to ensuring that we provide the best possible experience to our visitors. I am especially proud of the fact that many of our staff are internally sourced and promoted.

The past year saw modest growth, despite the negative impacts of the Ebola virus and new visa regulations and I am cautiously optimistic that the year ahead will be the same.

SEE MORE
This year TMACC welcomed a record number of visitors: 909,000 visitors, a remarkable
improvement on the 30,000 visitors welcomed in 1929.

The Cableway welcomed its 24-millionth visitor, Maria Usenne (27) from Mozambique, on 20 January 2015. Maria and her husband
Helvio were visiting Table Mountain for the first time.

TMACC offers a variety of promotions and specials aimed specifically at the domestic market.
For 10 months of the year locals can pay 50% or less by using these promotional offers:

Working within a World Heritage Site and a National Park, the Cableway is fully committed to balancing high volumes of visitors (900 000+ per year) with the need to protect the unique environment within which it operates. The Cableway takes its role as a custodian of Table Mountain very seriously. However, the Cableway's responsibility is not only limited to protecting the environment within which it operates. It also extends to other realms of responsible tourism:
i.e. social responsibility and economic responsibility.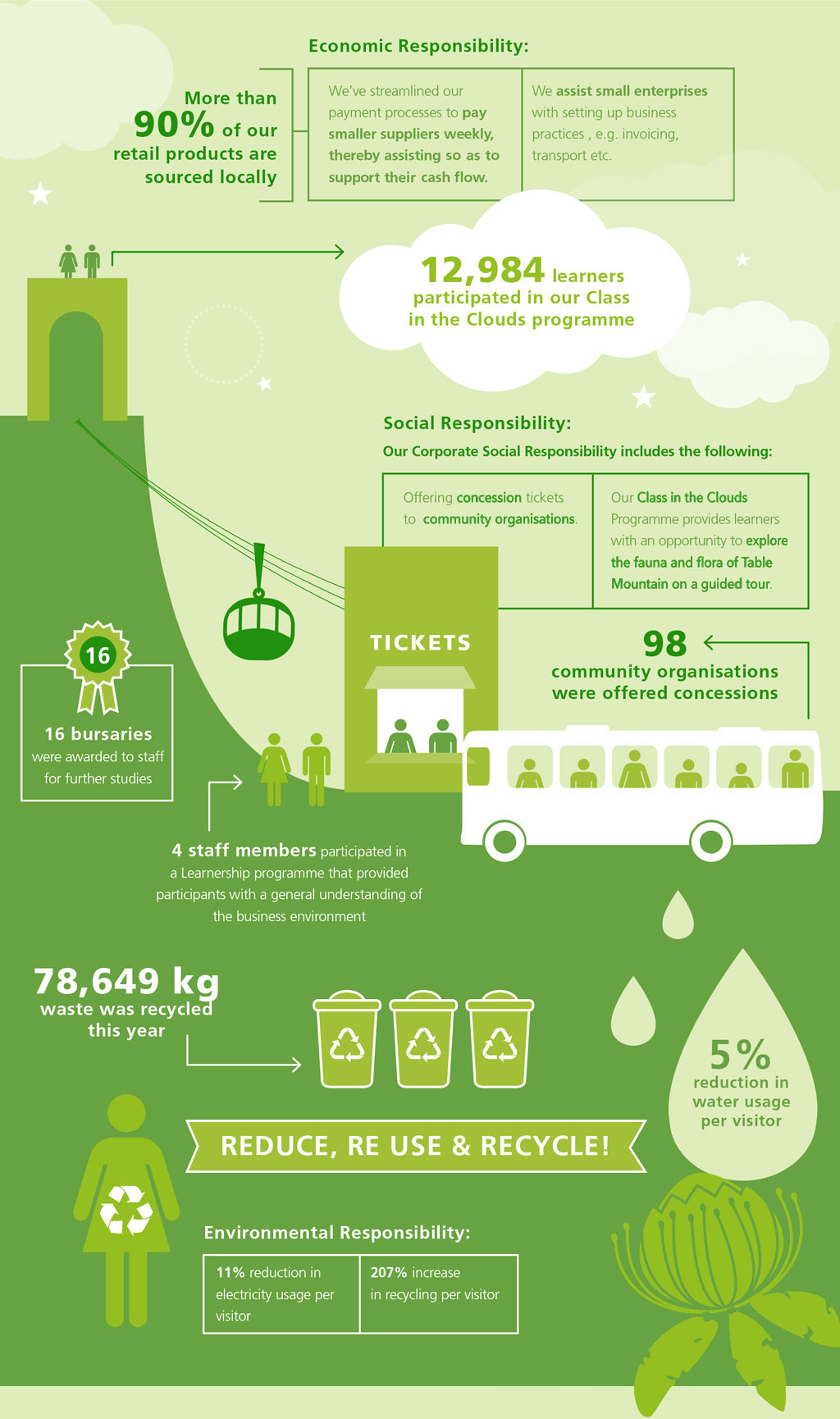 As a pioneer of Responsible Tourism in Cape Town, the Cableway is an ardent supporter of giving back to local communities and using tourism as a means of improving the economic situation of local communities.

From supporting local suppliers and increasing our orders with small businesses to streamlining our payment processes and offering business management assistance to our suppliers, we endeavour to contribute positively to the economic viability of local communities.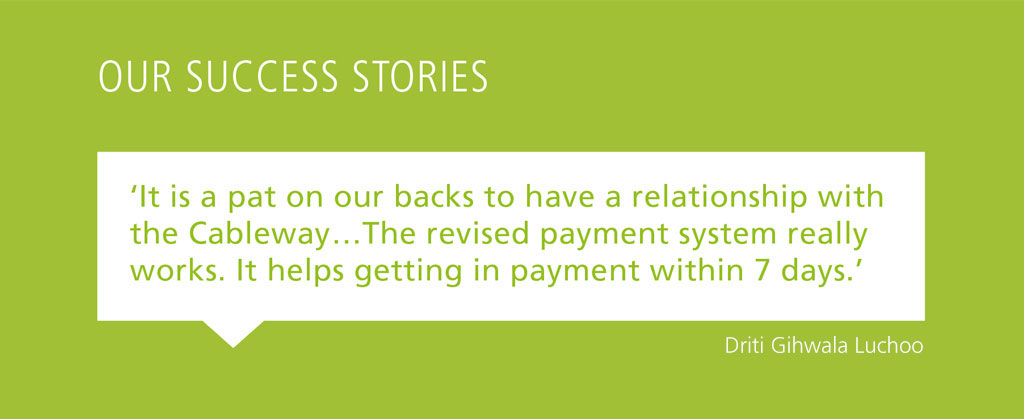 Owner of Synergy Frontiers and Supplier to the Shop at the Top and Table Mountain Café.

Each year, the Cableway issues tickets to non-profit organisations, the underprivileged and school learners, giving them the opportunity to experience our attraction, through our Corporate Social Responsibility and Class in the Clouds programmes:
This last year 98 organisations (NPO's, NGO's and community organisations) participated in our Corporate Social Responsibility Programme.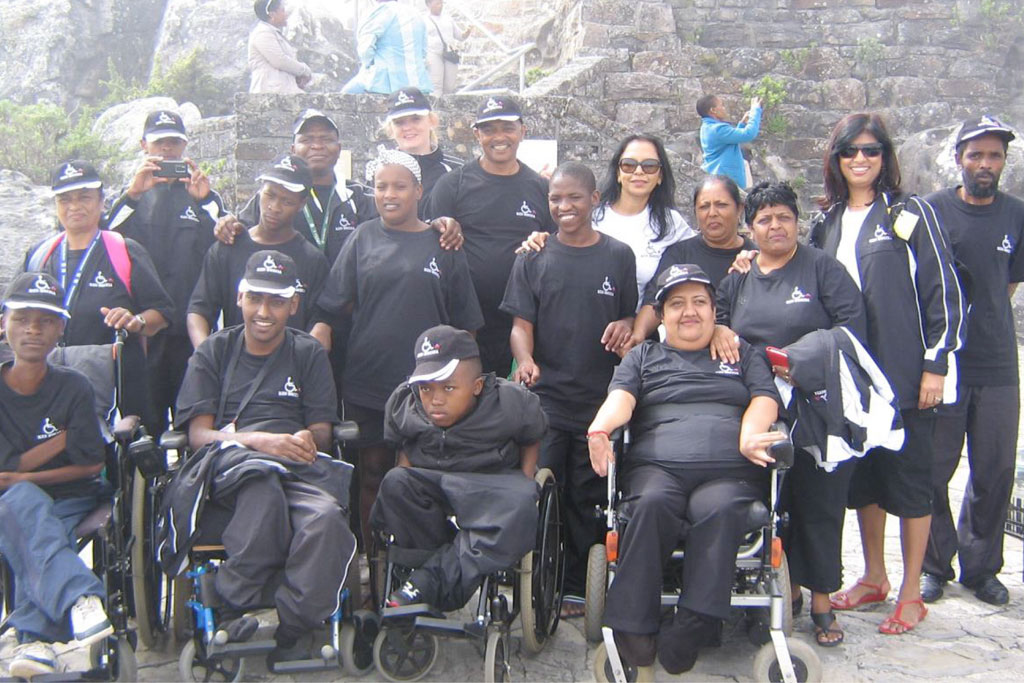 ABOVE: Members of the KZN Boccia Disability Sports Team enjoy their visit to Table Mountain.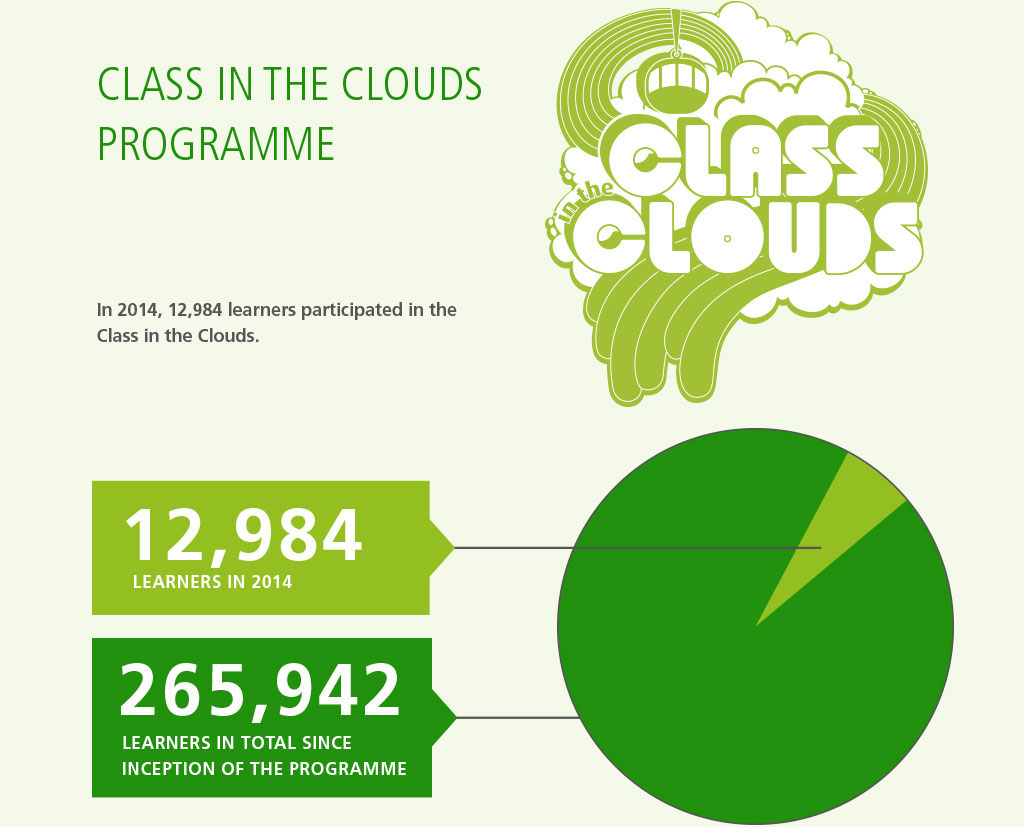 The Class in the Clouds programme runs weekdays, from 1 March to 31 October each year, providing learners with amazing views, fun activities, interesting walks and the most fascinating facts about Table Mountain, a wonder of nature.

Having been named one of the New7Wonders of Nature not only places us in the spotlight, but also sets high expectations from our visitors - both local and international. To meet these expectations we focus on employing passionate individuals and creating intensive training and development programmes for them. We believe that this investment, driven by our People Brand, empowers our employees to shape their own futures by providing them with useful skills.

To achieve this, TMACC has created an Academy of Learning named Siyafundisa which comprises various learning modules namely:
On-the-job Training
Skills Development
Formal Training
Leadership Development
Leadership Tertiary Education
Bursaries
Learnerships
Partnerships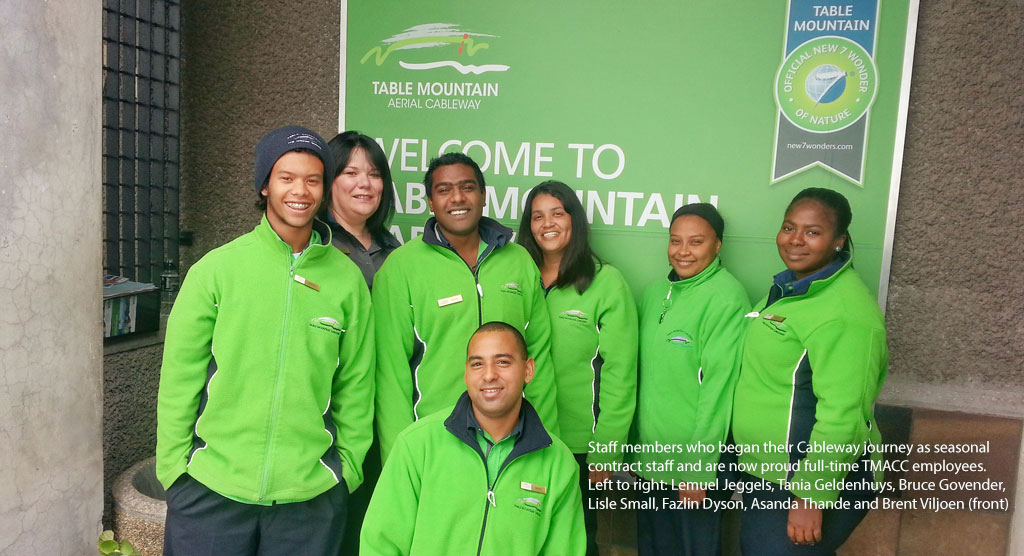 The following training opportunities and bursary allocations were granted during the
2014/2015 financial year: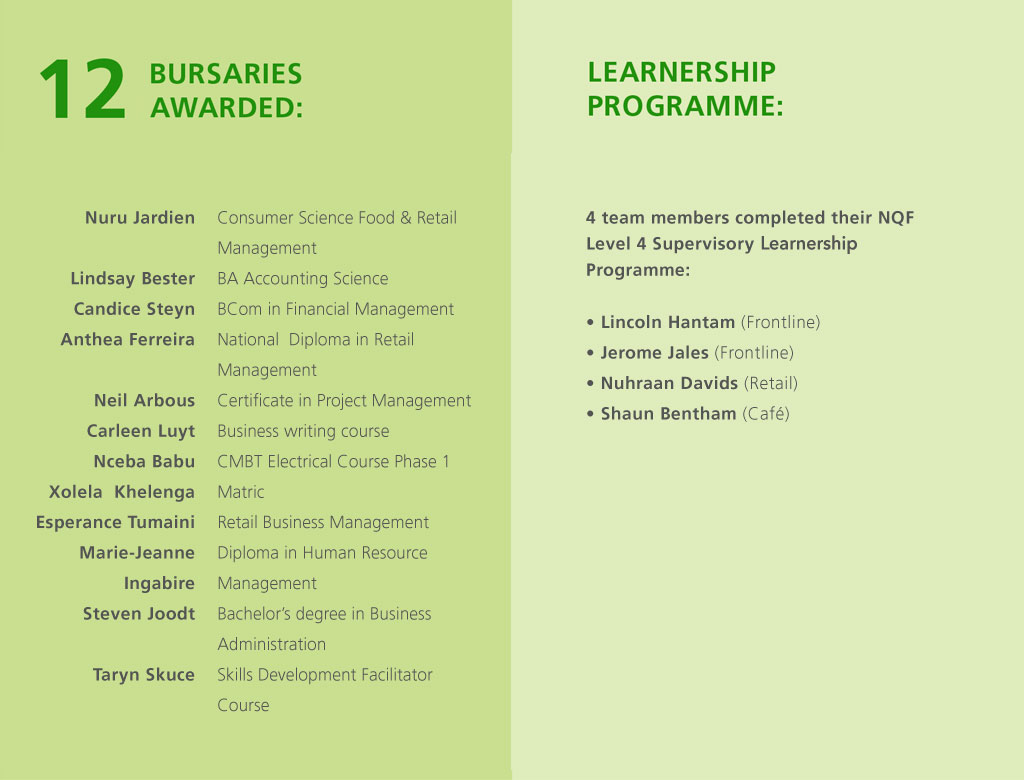 Jerome Jales provides some feedback on completing the Learnership Programme.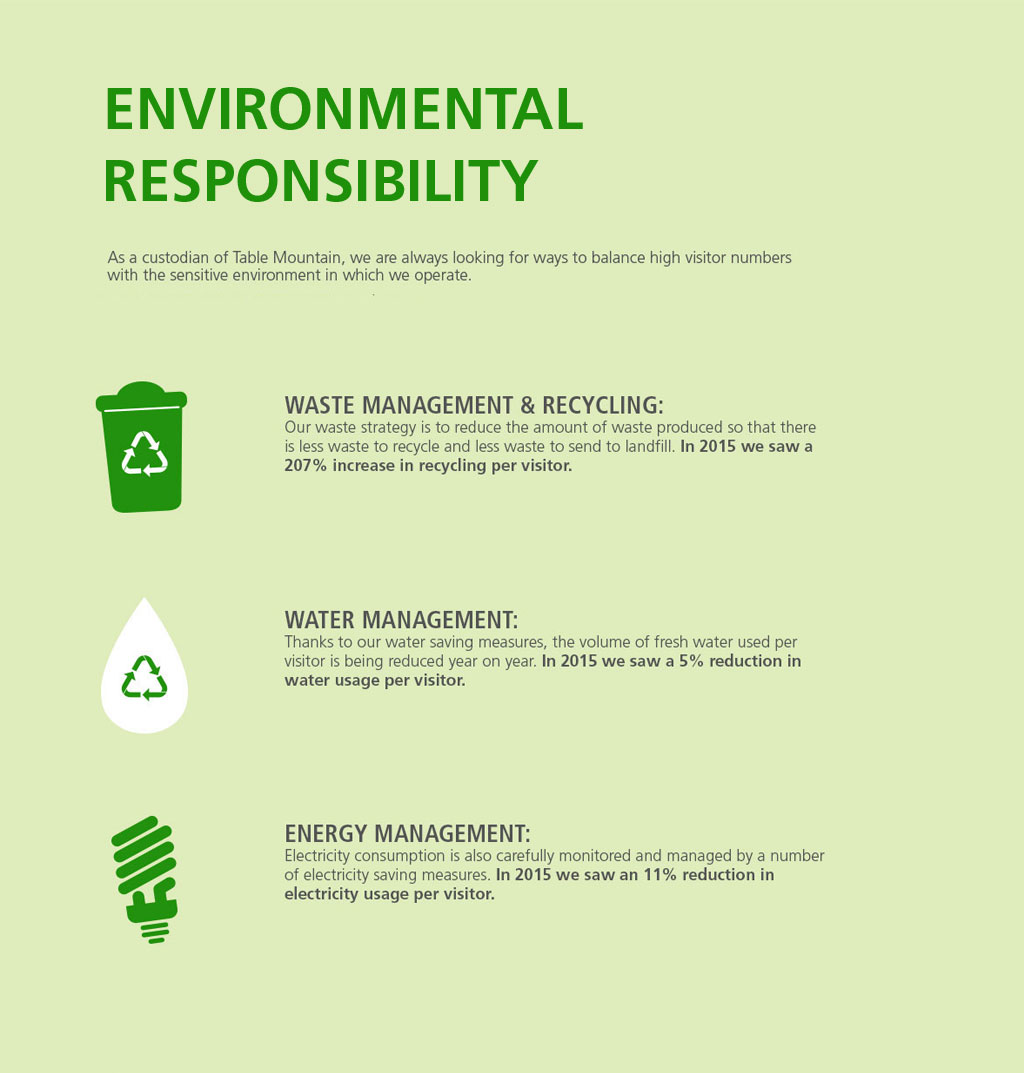 Our technical team have been hard at work keeping the cable cars running at the Cableway this past year whilst experiencing numerous exciting new changes within their bustling department. Just looking at this list of great achievements, we're in awe of everything our Nuts and Bolts team has done: