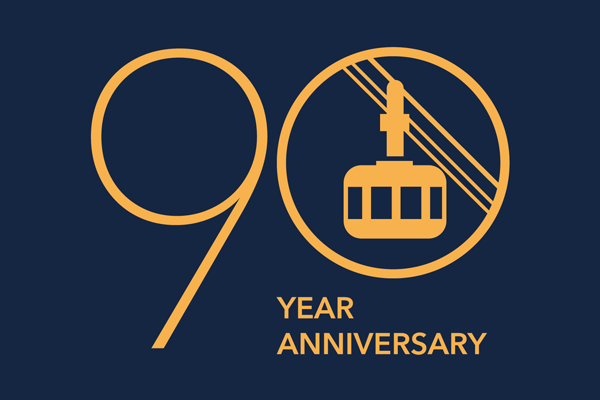 ISTANBUL COMPETITION WINNER

EVENT AT FNB BUILDING

GARY HIRSON EXHIBITION

QUEUE ENTERTAINMENT
COMPANY
PURPOSE
Our purpose is to share our passion for Table Mountain by giving everyone an authentic experience of an iconic natural wonder.
TABLE MOUNTAIN AERIAL
CABLEWAY CO (PTY) LTD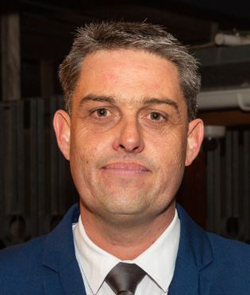 DIRECTORS
A Ray (Chairman)*#•
A Pillay#
W Parker (Managing)
F H Stroebel*#•
R Fenner*
M N Skade•
C Gooden*
T Adams (Alternate)
S Hercules (Financial)
P de Waal (Alternate)
B Moore*#
D Parker (Alternate)
*Member of the Audit and Risk Committee
•Member of the Social and Ethics Committee
#Member of the Remuneration and Nomination Committee
---
REGISTERED OFFICE
Lower Cable Station
Tafelberg Road
Cape Town
8001
Lower Cable Station
PO Box 730
Cape Town
8000
---
AUDITORS
Moore Stephens
Chartered Accountants
BANKERS
First National Bank
Southern Africa Limited
---
COMPANY REGISTRATION NUMBER
1926/002949/07
---
BOARD COMMITTEES
*Audit and Risk Committee
Constituted in terms of Section 94 of the Companies Act and comprises of at least three members who are independent non-executive Directors.
#Remuneration and Nomination Committee
Constituted in accordance with the recommendations of King III and comprises of not fewer than three non-executive Directors of whom the majority must be independent.
•Social and Ethics Committee
Constituted in terms of Section 72(4), read with Regulation 43(5), of the Companies Act and comprises of not fewer than three Directors, one of whom must be a non-executive Director.
FROM OUR
MANAGING DIRECTOR
Reflecting on the year that has passed, Table Mountain Aerial Cableway Company (TMACC) has seen its fair share of significant milestones, challenges and opportunities.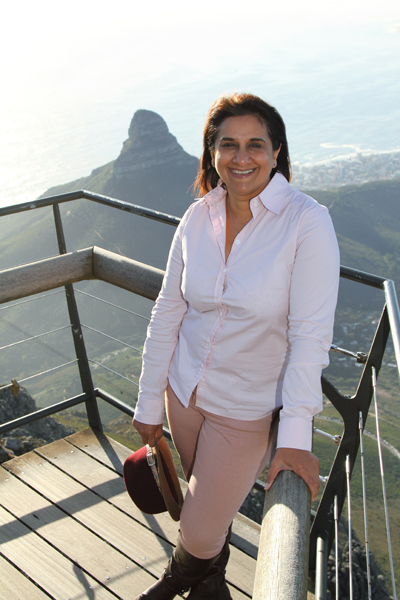 90 Years of Success
Reflecting on the year that has past, Table Mountain Aerial Cableway Company (TMACC) has seen its fair share of significant milestones, challenges and opportunities.
Having started our operations on 4th October 1929, we celebrated our 90th anniversary this past year. Over the decades, we have safely transported more than 29 million people to the top of our New7Wonder of Nature. I am so proud of what we have achieved, and we will continue working to maintain our high standards.
Throughout the year we have celebrated this incredible feat, including a gala event with our partners and industry players, a R90 special for locals and hosted a photographic exhibition, which went "behind the scenes" of our annual maintenance projects over the years.
Having been recognised as Africa's leading tourist attraction in the World Travel Awards, and nominated again as a finalist for leading tourist attraction in Africa and in the world in 2020, there is no doubt that the mountain's magnetism has a way of drawing people in, compelling them to reach the summit.
As a responsible operator, it is important for us to continue taking a careful approach to operations, specifically in the social and physical environments that are the backbone of our organisation. As part of this, TMACC retained its Diamond Heritage Environmental Rating, recognising five years of continuous environmental performance of the highest standard.
Through our investment in the Kuyasa Housing Project, a low carbon initiative in Khayelitsha, we have been able to offset our carbon emissions, allowing us to achieve a carbon neutral status.
Now, when it is needed most, our focus is to empower our communities and we remain committed to working with various organisations who are able to support us in this goal. Over the past year, we have seen more than 80 organisations participate in our Corporate Social Investment programme.
Our Class in the Clouds programme was started as a way to give back, educate and inspire the youth of local communities, with 8780 taking part in the programme over the past year. We used this year to adapt our Class in the Clouds programme to ensure that all learners are able to experience the wonders of Table Mountain – creating a virtual experience of the mountain, as well as developing downloadable worksheets for learners to use. I am proud of how many incredible young learners have been able to take part in this unique outdoor experience.
In order to boost safety and security in the Table Mountain National Park, TMACC procured three high- tech CCTV cameras for use by SANParks. We are also working closely with the Wilderness Search and Rescue (WSAR) organisation in support of their bid to use the old tennis courts at the top of Kloof Nek Road as a designated helicopter emergency medical service (HEMS) landing site.
We continue to build a reputation that is focused on best practice - ultimately ensuring that our visitors enjoy a world-class experience. To deliver this, we have worked to improve the visitor experience through upgrading our ticketing system, renovating our retail outlets, stocking 95% of our retail products from local sources, developing a virtual experience for visitors, and most importantly, improving our health and safety protocols.
We are grateful for the repair work that the City of Cape Town has done to address the deterioration that took place on Tafelberg Road, as well as relocating the bus parking bays to help ease congestion. In our response to the Covid-19 pandemic, we have continued to engage with industry bodies to ensure that we meet all the necessary health and safety standards, as well as implement measures that will protect our staff and visitors. We remain steadfast that, as we navigate this pandemic, the health and safety of everyone remains our top priority.
No organisation succeeds without its people. There is no doubt that we would not have accomplished all that we have if it were not for the hardworking and dedicated team at TMACC. I cannot thank every single staff member enough for all that they have done over the past year.
I have also been privileged to welcome Giselle Esau to our team as our new Executive Marketing and Brand Manager and Jonathan Skepe to our Human Resources team.
There has been an unwavering determination amongst the team to continue to build on all the great work that was done in 2019, despite all the challenges that we have faced. I do believe that it is with this spirit and resolve that we will go from strength to strength in the coming years.
I believe that the tourism sector – both domestic and international – has a massive role to play in rebuilding our economy. The challenging times that we face as an industry have presented us with many an opportunity for innovation that will ultimately improve travel on the whole.
Wahida Parker
Managing Director
HIGHLIGHTS OVER
THE PAST 90 YEARS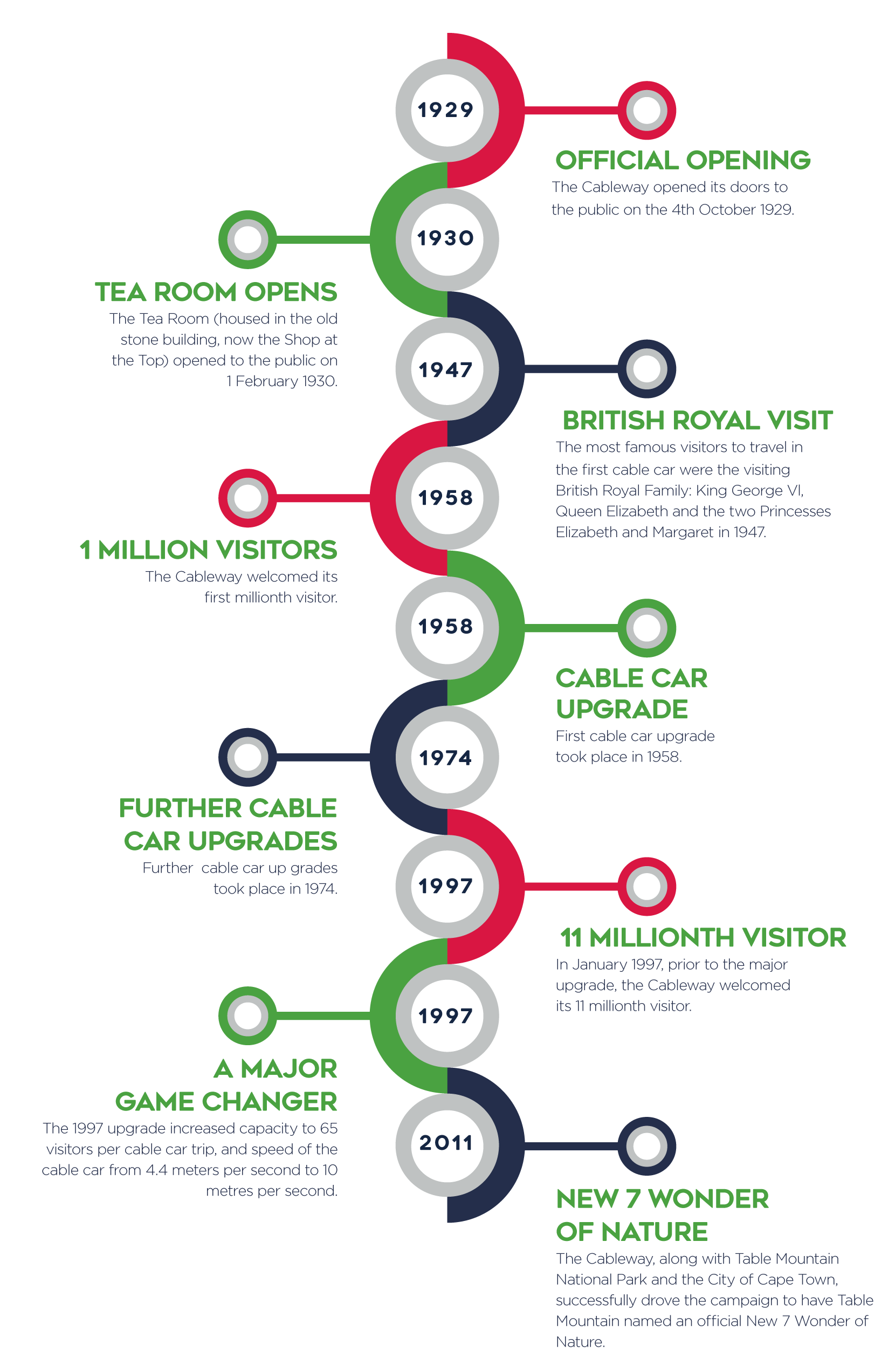 2019
29MILLIONTH
VISITOR
TMACC welcomed its 29 millionth visitor, Muzi Sibanyoni of Durban, on 23 December 2019.
CABLEWAY SPECIALS
& PROMOTIONS
We continue to afford locals the opportunity to experience our African wonder of nature with discounts of up to 50% via the following specials:
PARTNERSHIPS
AND SPONSORSHIPS
The Cableway actively seeks to collaborate with tourism industry stakeholders. As such the Cableway is represented on a number of tourism boards, events and projects. In 2019/2020, these included:
CAPE TOWN TOURISM
The Cableway is proud to be a long-standing Executive Partner of Cape Town Tourism, the City's official destination marketing organisation.

CAPE TOWN BIG 6
Cape Town Big 6: Table Mountain Aerial Cableway, Robben Island, Kirstenbosch, Cape Point, Groot Constantia, V&A Waterfront
The Cableway continues to pursue cross marketing opportunities as well as opportunities to showcase our offerings at local and international travel trade shows and insight sharing through our participating in the Cape Town Big 6 marketing collaboration.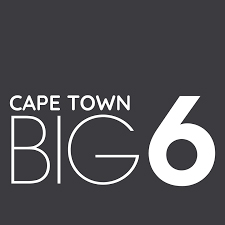 AAVEA CONFERENCE
African Association of Visitor Experiences and Attractions
The Cableway is a patron sponsor of the annual AAVEA conference and continues to share its key learnings and success in the attractions management industry with conference delegates. The conference, which shifted to a virtual event in 2020, attracted 100 international and local delegates.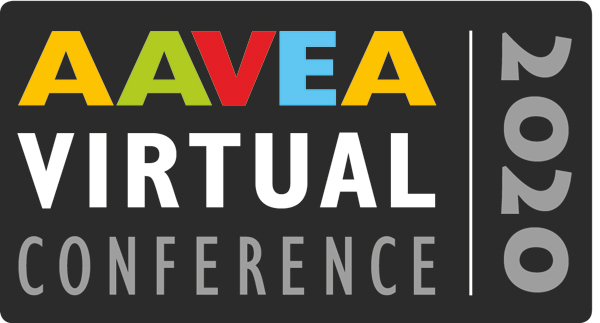 IAAPA EXPO
Wahida Parker (MD), Selma Hercules (Financial Director) and Neil Arbous (IT Executive) represented the Cableway at the IAAPA Expo in Orlando, Florida. IAAPA is the global association for the attractions industry.

CABLEWAY ONLINE
CABLEWAY GOES VIRTUAL
Our exciting Virtual Reality project was designed and implemented. This was a challenging, but interesting project with massive potential. The project, managed by Neil Arbous, our IT Executive, and created by local company Sea Monster, was completed in late February 2020.
As an alternative, and to keep visitors engaged during the national lock down, we launched a virtual Upper Cable Station tour with Page Creative Studios.
Local school learners are also now able to view it as part of our Class in the Clouds Programme.
CABLEWAY SOCIAL
Over the past year, the Cableway's social media accounts have undergone the following:
RESPONSIBLE
CABLEWAY
With the COVID19 pandemic affecting our operations, our responsible tourism efforts were brought into sharper focus this year.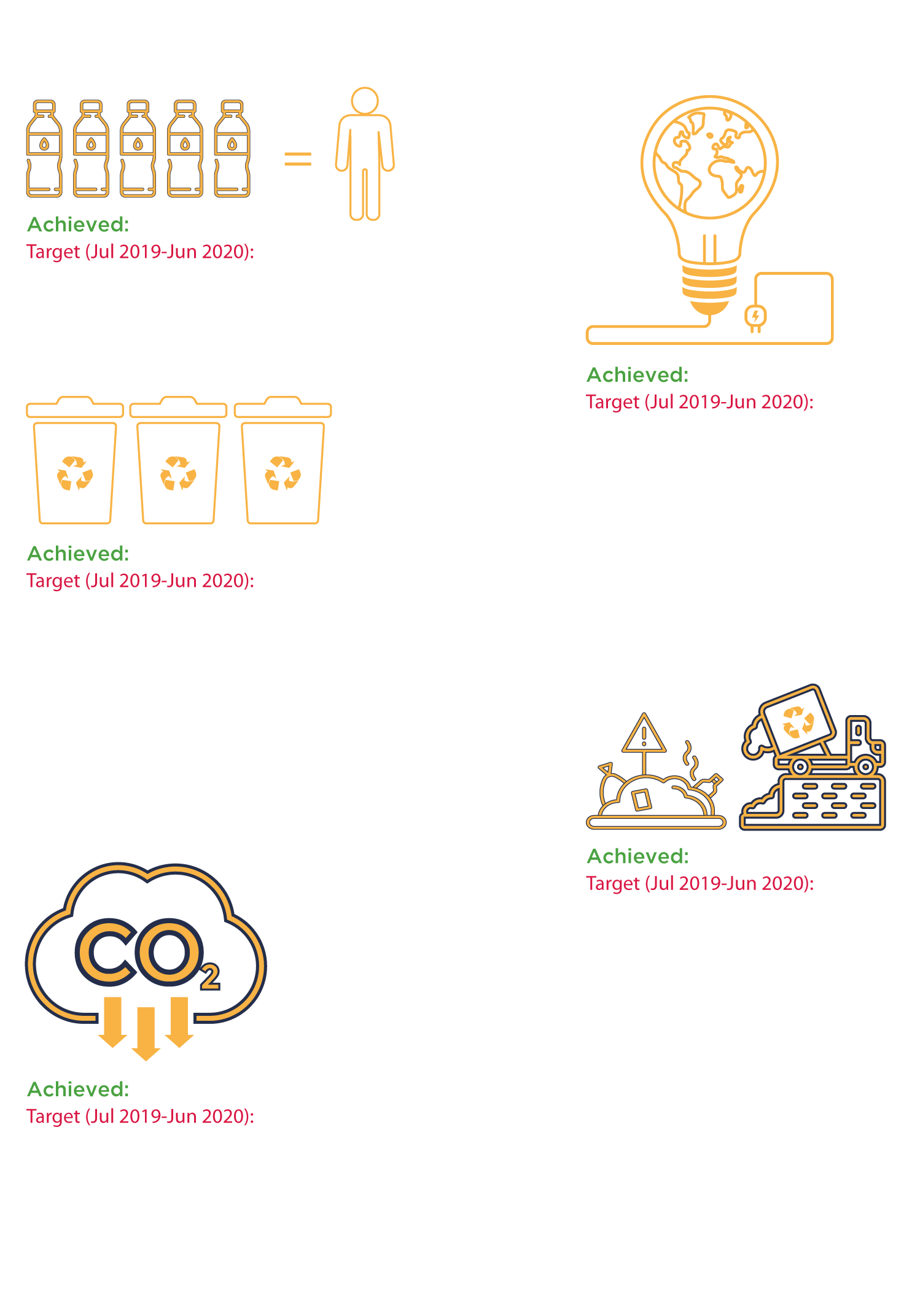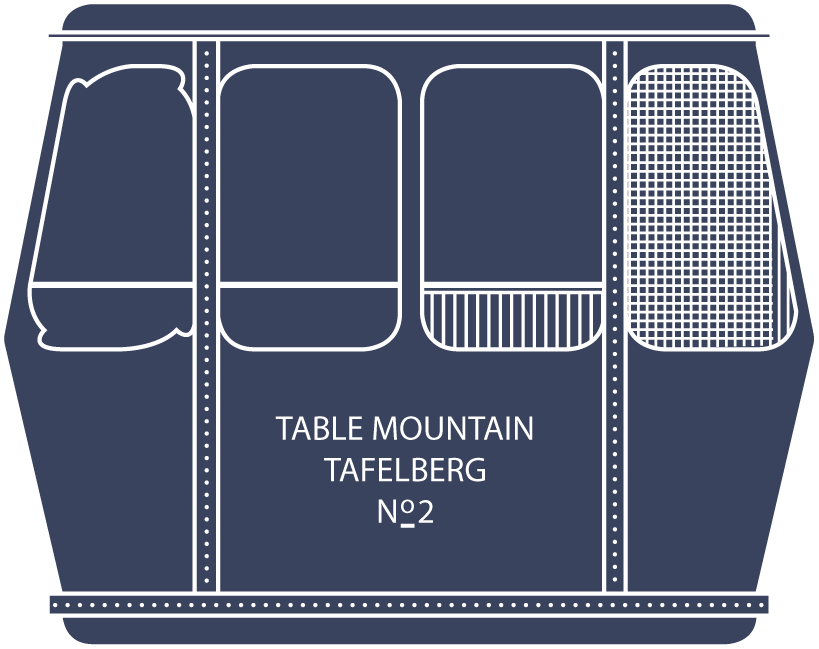 CARBON
NEUTRAL
CABLEWAY
In 2015, in order to offset the amount of carbon emissions produced by our operations, we invested in the Kuyasa Housing Project, a low-carbon initiative in Khayelitsha. Through purchasing units, we are ensuring that houses in this housing project are provided with proper ceilings and solar-heating systems. Our current Carbon Neutral status is as follows: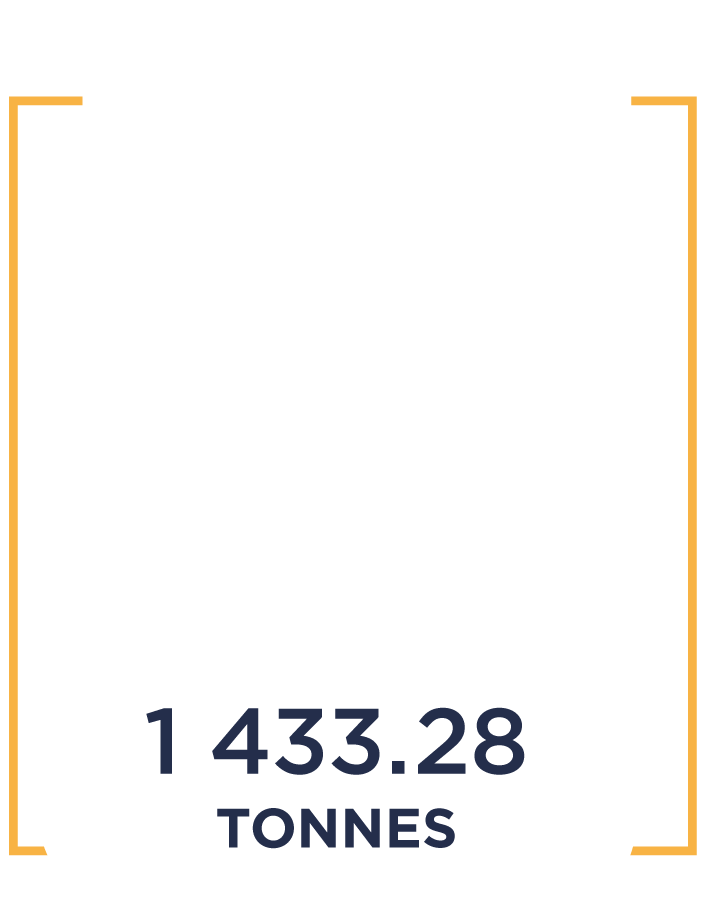 Our emissions for 2018/2019
have been offset by investing in the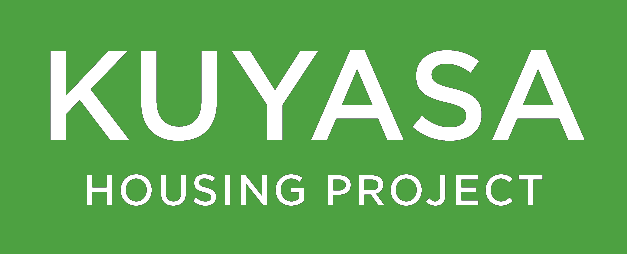 Kuyasa is a low-carbon housing development in one of the poorest and most vulnerable corners of Khayelitsha in the Western Cape.
The project has installed solar water heaters, insulated ceilings and compact fluorescent energy efficient lightbulbs (CFLs) in 2 100 houses, resulting in monetary savings, improved indoor air quality, and reduced greenhouse gases.
We've recorded the following CO2 emissions over the past year:
954 015 kWh
Electricity

1 109 098 kg
All other indirect emissions
Air travel and 3rd party transportation

3 449 225 L
Water

61 458 kg
Waste
62 905 kg of waste produced is recycled
---
The Cableway has retained its Diamond Heritage environmental rating in recognition of five years of continuous commitment to environmental performance of the highest standard.
SAFE
CABLEWAY
The global pandemic, which saw TMACC go into lock down a week earlier than the rest of the country, on 18 March 2020, presented our Health and Safety department with opportunities to work on and implement our own safety protocols. Candice Syce, our COVID 19 Officer, implemented the following:
TRAINING SESSIONS:
We hosted our COVID-19 Training Sessions from 4th to 30th June 2020 and – we inducted 254 staff members in total. A Testing & Screening Tool on the MYSHEQ System was introduced which staff continue to use.
SAFETY PROTOCOLS:
Candice Syce, Occupational Health & Safety Officer working with the Marketing team, created TMACC's safety protocols and signage, which are displayed on site and online on our website and social media platforms: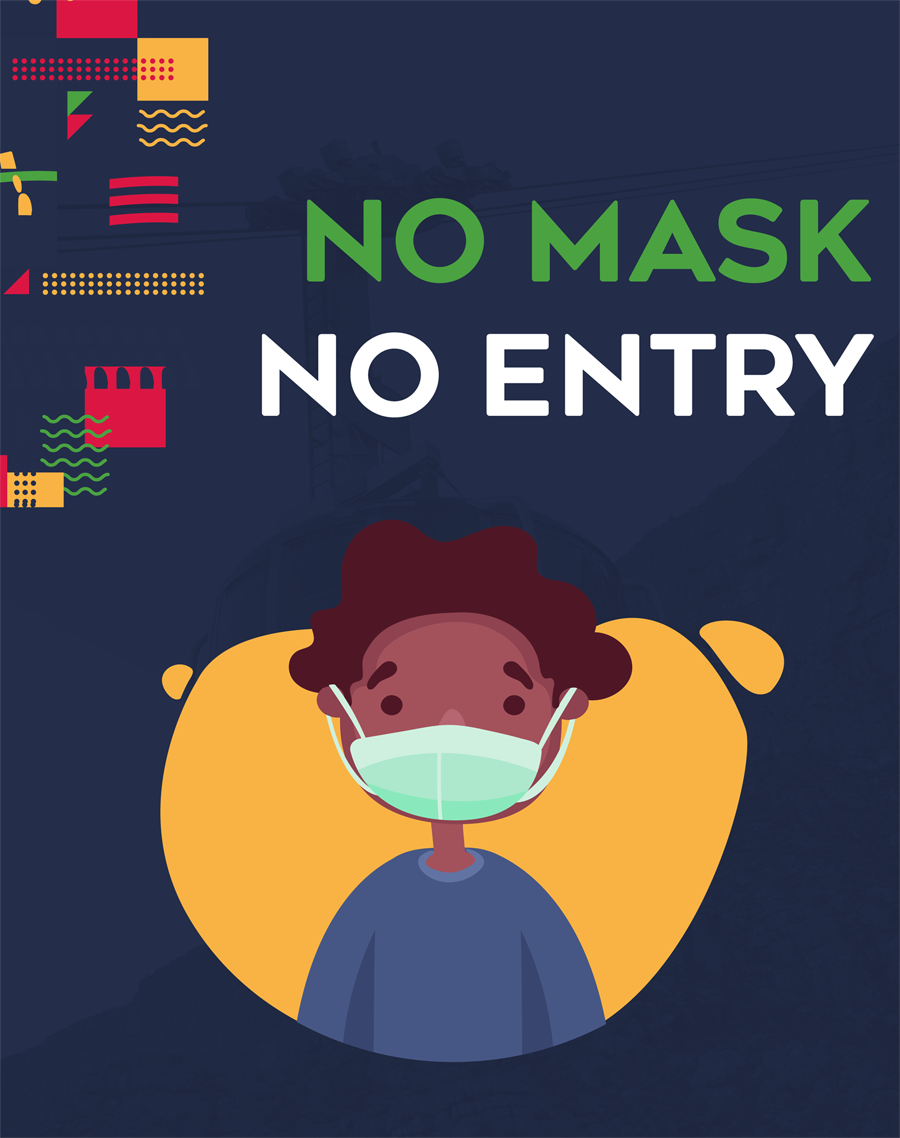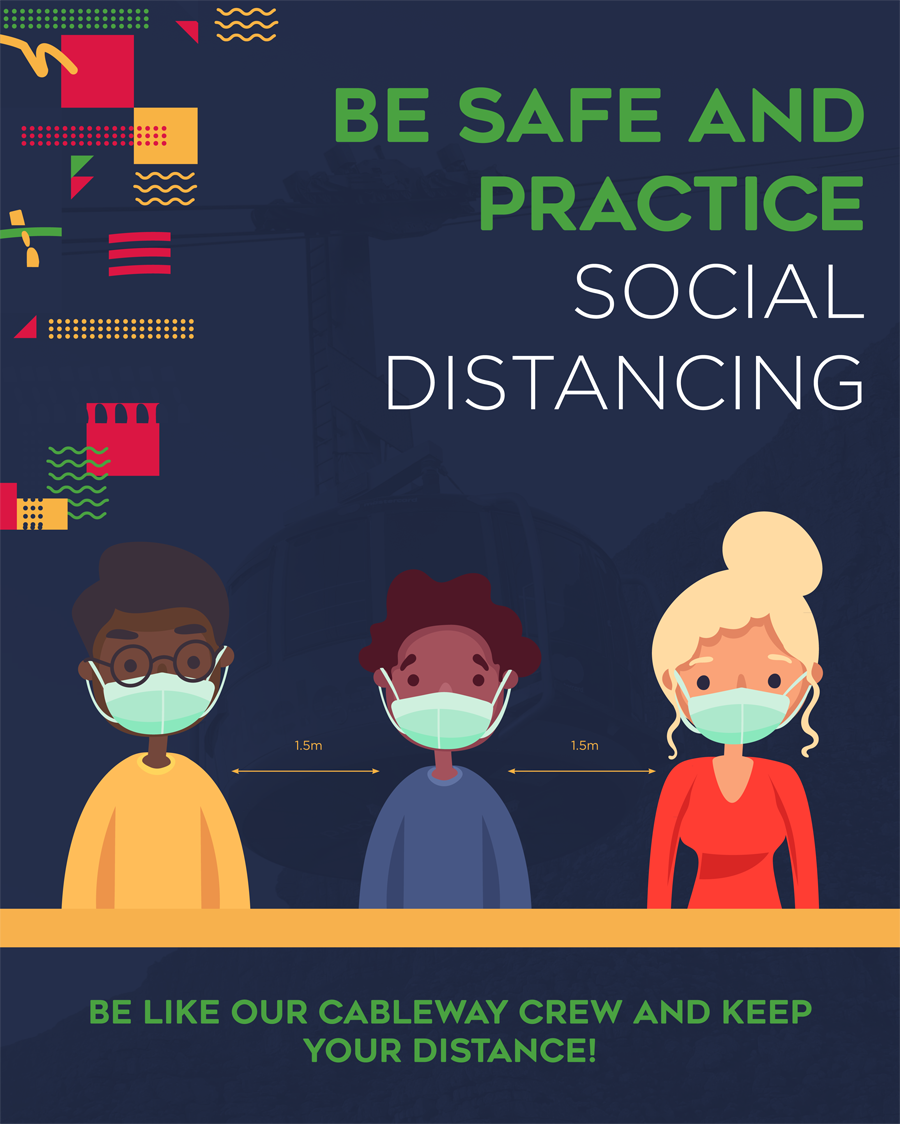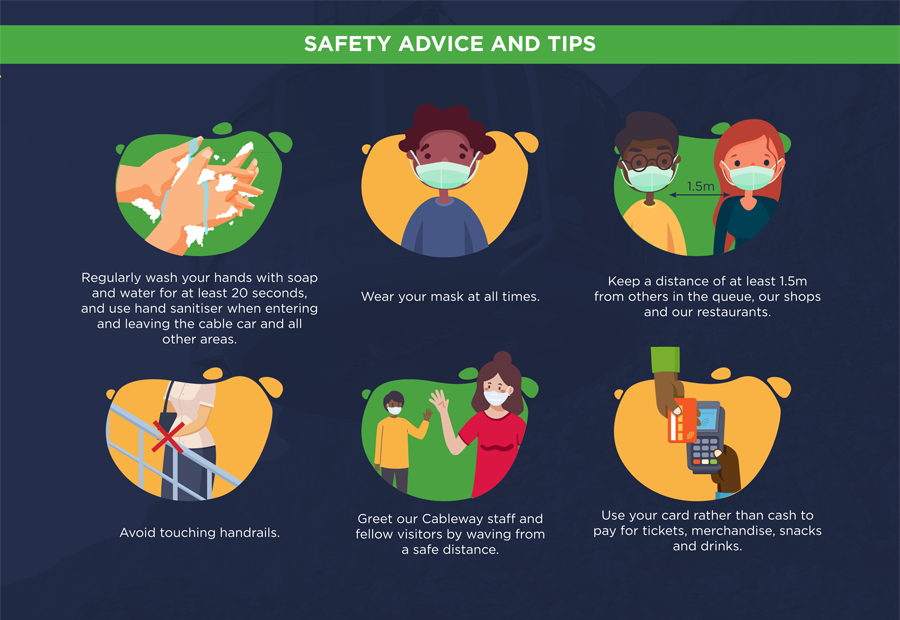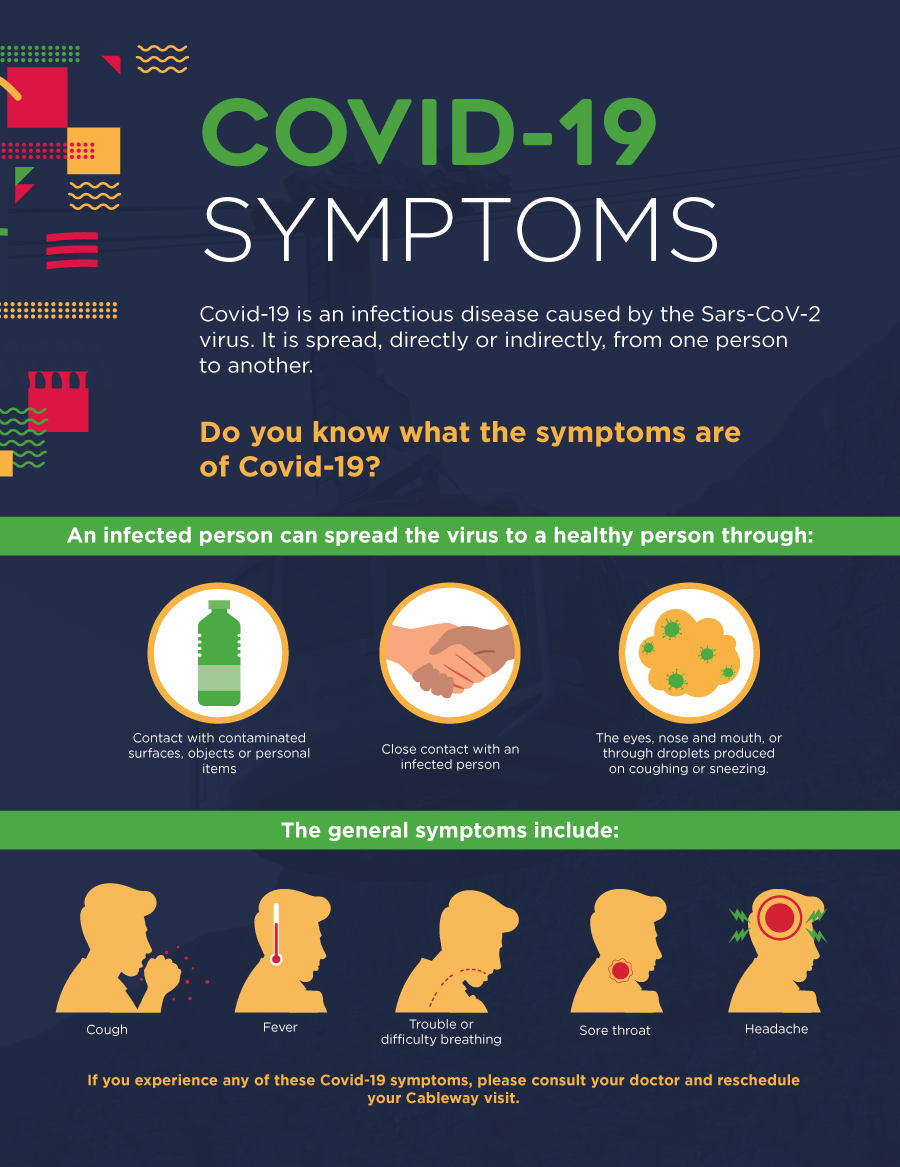 CARING
CABLEWAY
Each year the Cableway issues tickets to non-profit organisations, the underprivileged and school learners, giving them the opportunity to experience our attraction, through our Corporate Social Responsibility and Class in the Clouds Programmes:
CORPORATE SOCIAL INVESTMENT PROGRAMME
80 organisations (NPOs, NGOs and community organisations participated in our Corporate Social Investment Programme.

CLASS IN THE CLOUDS
The Class in the Clouds Programme, launched in 2001, runs weekdays, from 1st March to 31st October each year, providing learners with amazing views, fun activities, interesting walks and the most fascinating facts about Table Mountain, a wonder of nature.
In 2019, 8780 learners participated in the Class in the Clouds Programme.
To date, 313,454 learners have participated in the Class in the Clouds Programme.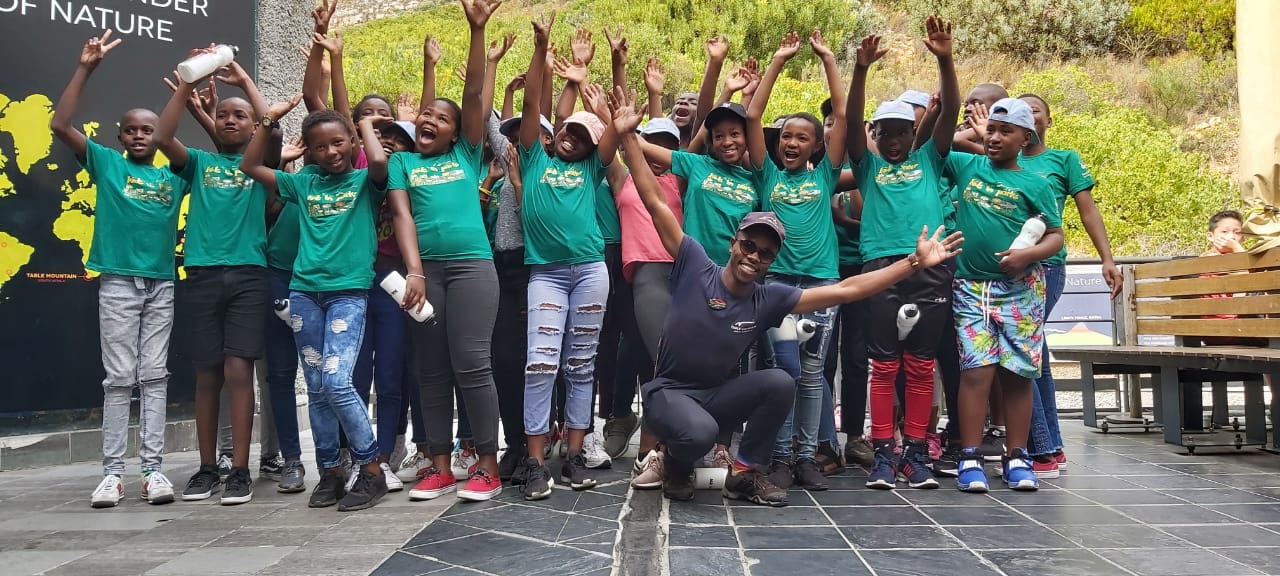 FALLEN ANGELS BLANKET DRIVE
Bearing in mind our recycling policy and our aim to care for the community, we invited all of our staff to donate their old green uniforms to help us create blankets for the homeless animals at the Fallen Angels animal shelter.
TEAM
CABLEWAY
Our staff journey has had a number of exciting changes this year:
CABLEWAY HEADCOUNT
As at the end of June 2020, the headcount of employed staff members at the Cableway was a total of 195: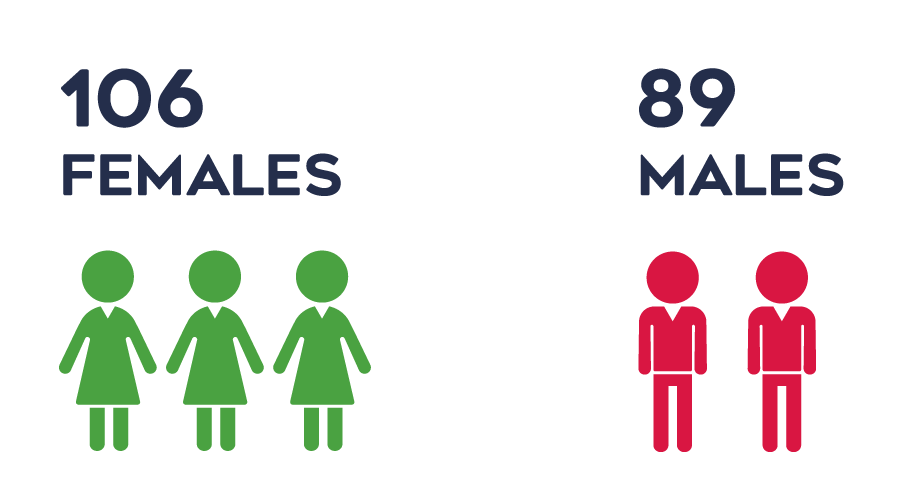 ---
TEAM HR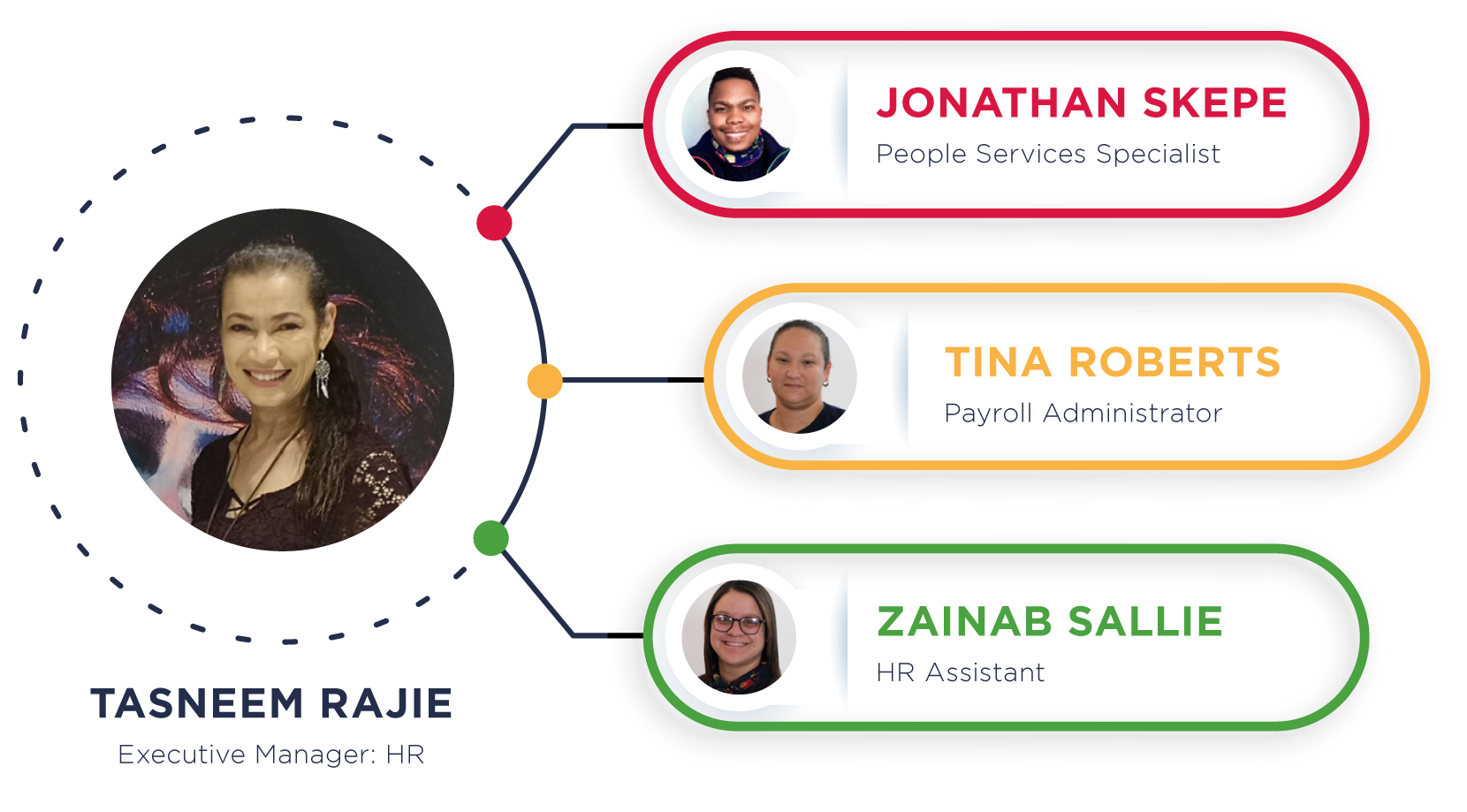 ---
STAFF
MOVEMENT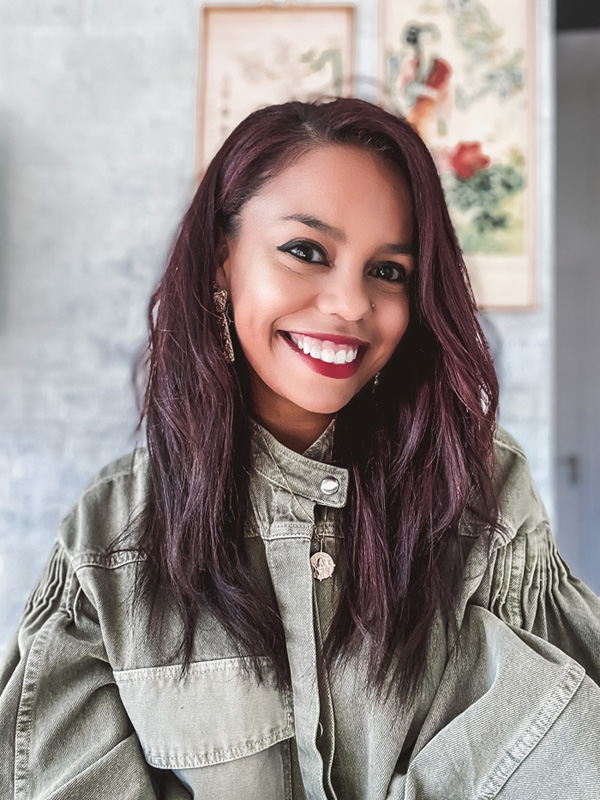 On 1st March 2020 we successfully appointed our Executive Manager: Brand. Giselle Esau comes from a strong PR, Marketing, Media and Fashion background. Before joining the Cableway, she was the Brand Director at Zando, which is one of the top 10 current online shopping portals and previously she was Head of Brand Marketing at Spree.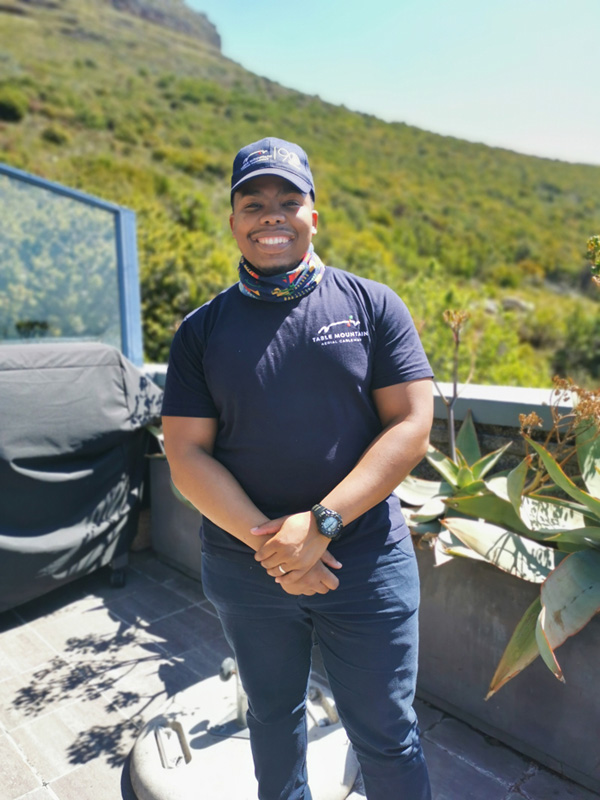 Jonathan started as the new People Services Specialist on 1 May 2020. He worked at Radisson Blu Hotel for four years before joining the Cableway. "Outside of work, I enjoy making music and going to the gym." Serving with integrity is a big part of who Jonathan is and he believes in hard work and making every moment matter.
---
LONG SERVICE
CELEBRATIONS
05

YEARS OF SERVICE
| Name | Surname |
| --- | --- |
| Angela | Ncwana |
| Bongiwe | Mgudlwa |
| Fazielah | Williams |
| Qonyiweyo | Songeziwe |
| Lindiwe | Kweyama |
| Rhafiek | Smith |
| Khanyisa | Gqoli |
| Carl | Randall Raikes |
| Fazlin | Dyson |
| Rustin | Rossouw |
| Shannon | Bagley |
| Marvin | Smith |
10

YEARS OF SERVICE
| Name | Surname |
| --- | --- |
| Loyiso | Gogela |
| Riedewaan | Floris |
| Stephen | Rodgers |
| Eugene | Labuschange |
| Zuziwe | Makapela |
15

YEARS OF SERVICE
| Name | Surname |
| --- | --- |
| Chantal | Webb |
25

YEARS OF SERVICE
| Name | Surname |
| --- | --- |
| Robert | Streefkerk |
| Lisa | Paterson |
30

YEARS OF SERVICE
| Name | Surname |
| --- | --- |
| Gary | Wright |
| Michael | Williams |
CHANGE OF
UNIFORM
We launched our new staff uniform on Monday, 18 November 2019 and staff members received and welcomed our new uniform colour palette and design with excitement. This new fresh feel of our uniform is an extension of our brand and who we are as ambassadors of the Cableway and Table Mountain.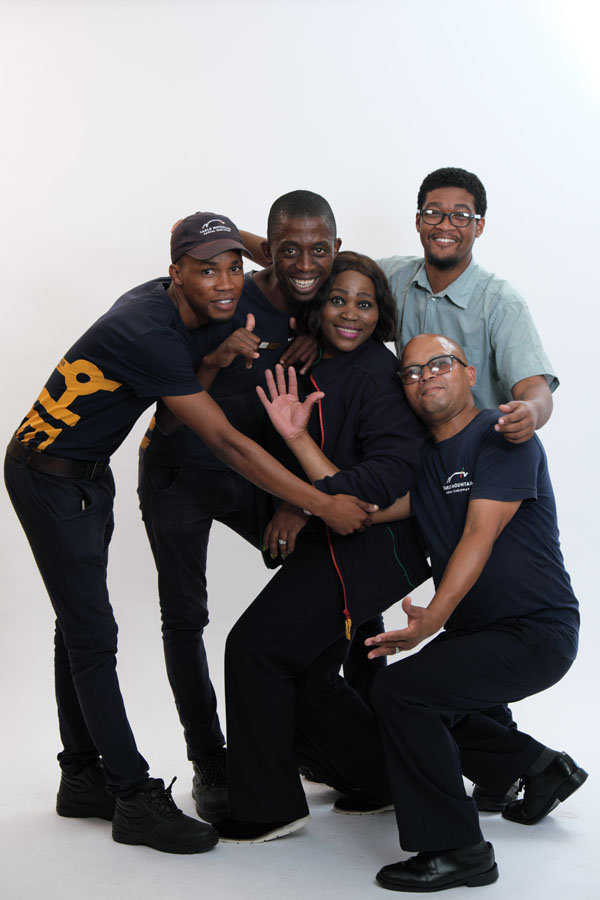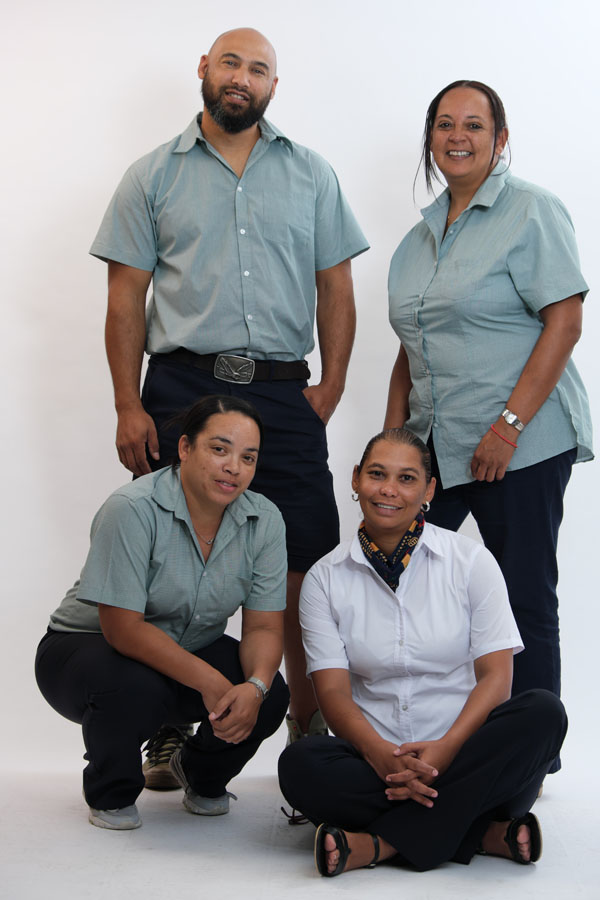 STAFF RECRUITMENT
DRIVE 2019
We received over 13 000 applications from those who aspired to join the Cableway for seasonal employment in our 2019 recruitment drive. There was an increase of 4 400 applications in comparison to our 2018 recruitment drive. These totals are a great reflection of the interest shown in TMACC as an employer.
Applicants were sourced through various mediums, including various social media platforms and word of mouth.
The Recruitment Drive was hosted at DoubleTree by Hilton and – for the very first time - Radisson Blu Hotel & Residence as well as Taj Hotel.
As a result, we have welcomed a total of 171 seasonal staff.
SUCCESS STORY IN THE MAKING
Zuleiga Samodien was hired as a seasonal worker, but on 27th January she was appointed as Hygiene Assistant in a permanent capacity.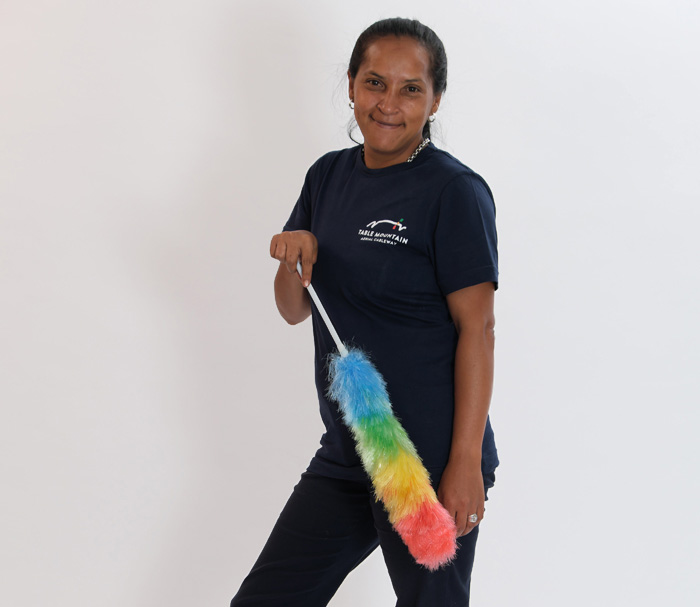 CABLEWAY
SIYAFUNDISA
TMACC ACADEMY OF LEARNING:
Siyafundisa is committed to delivering to our People Brand by providing various learning opportunities to all staff members. Various learning platforms were created not only to support our staff members, but unemployed and disabled youth in communities surrounding our Iconic Natural Wonder.
Below are some of our achievements over the past year:
1
LEARNERSHIPS (EMPLOYED AND UNEMPLOYED)
We kicked off an exciting new Learnership which commenced on 1st November 2019 ending on 31st October 2020.
Learnership Type: Employed and Unemployed Learners
We offered a National Certificate in Food and Beverage Services and partnered with Capsicum Culinary School who specially customised this learning offering to suit our operation. All staff wishing to obtain a qualification in the Food and Beverage Industry now have the opportunity to do so through this Learnership.
We currently have 5 employed and 3 unemployed learners who are participating in this programme.
NQF Level: 4 – NC Food & Beverage Services - (SAQA No: 14113)
| Staff Detail | Department | Type of Learner |
| --- | --- | --- |
| Luvo Mjaleni | Retail | Employed learner-contract |
| Kent Brown | Kitchen | Employed learner-contract |
| Anati Khethiwe | Kitchen | Employed learner-contract |
| Fallan Timm | Kitchen | Employed learner-permanent |
| Zintle Mavukuza | Café | Employed learner-contract |
| Chleo Geldenhuys | Café | Unemployed learner-contract |
| Mandla Mfuthwana | Café | Unemployed learner-contract |
| Anela Mayeki | Café | Unemployed learner-contract |
2
LEARNERSHIPS (PEOPLE LIVING WITH DISABILITIES)
I-Can Academy continues to do amazing work by facilitating a GETC: Domestic Services NQF Level 1 Learnership for people living with disabilities in partnership with Siyafundisa. See below participants who completed this learning programme which started on the 1st July 2019 and ended 30th June 2020:
| Staff Detail | Department | Type of Learner |
| --- | --- | --- |
| Kimberlyn Maxim | Offsite Learnership | Disabled Learner |
| Asipe Ndzane | Offsite Learnership | Disabled Learner |
| Desmond Witbooi | Offsite Learnership | Disabled Learner |
3
BURSARIES
In support of TMACC's People Brand, we offer staff members the opportunity to apply for bursaries. In 2019 we offered bursaries to the following employees:
01
SIYABULELA THONJENI
Strategic Logistics Management(Short Course)
02
NOLUVO MRWETYANA
Cost & Management Accounting
03
SIYABONGA SETONG
Postgraduate B.Ed(Basic Education)
04
KEITH NCUBE
Wine & Spirit Education Trust: Awards In Wines (Level 1, 2 & 3)
05
KEEGAN MOODLEY
Adventure Tour Guide (Mountaineering)
06
JOSEPHINE ARLIES
Moderation & Facilitation Skills
07
SIPHOKAZI MAHILIHILI
Applied Project Management In An I.T Environment
08
DIMITRI LOUW
Diploma Food Production & Cooking
09
CARL RAIKES
Wine Course (Certificate: Level 2)
10
REZAAN EZE
Matric (Grade 12 Amended Senior Certificate)
4
TMACC E-LEARNING
In partnership with Pendula Group we were able to provide everybody with the opportunity to complete an online course in aid of upskilling and advancing the Cableway team during lockdown!
We made it possible for staff to complete the module(s) in the comfort of their own homes, on their mobile phones and at their own pace.
We purchased 1Gig of data for each employee who took up the offer, in order to make the completion of the course as seamless as possible.
Certified Specialist Disinfectant Applicator Training (CERSDAT)
The impact of COVID-19 required us to shift our minds and adapt to revised protocols, both as a business and as staff working at TMACC.

Joining with UpSkill Academy for the very first time five members of the Operations Leadership team completed the abovementioned online course which is based on the guidelines provided by the World Health Organization, the CDC, OSHA, the EPA and the IICRC. Certificates have been received and training needs to be carried over to the rest of the Operations team. This is in alignment with Covid-19 Induction Training Sessions facilitated by Candice Syce.
SHUTDOWN
TRAINING 2019
Health and Safety with Candice and Marie: Annual Health
and Safety & Standard Operation Procedure Training.
DREAM TEAM CATALYST
Big Picture Team Bonding 2019
Our shutdown training team bonding venue, situated in the township of Kayamandi in Stellenbosch, used over a 5-week period, was our way of contributing to responsible tourism and to the bigger community at large through supporting up and coming tourism initiatives. This centre/ venue is driven largely by the community and Stellenbosch Township and Village. Our staff painted a 3m high X 6m wide Mystery Artwork which is representative of who we are and what we stand for at the Cableway (not aware of what the big picture was going to look like). The grand reveal was carried out at our 90th Cableway celebration.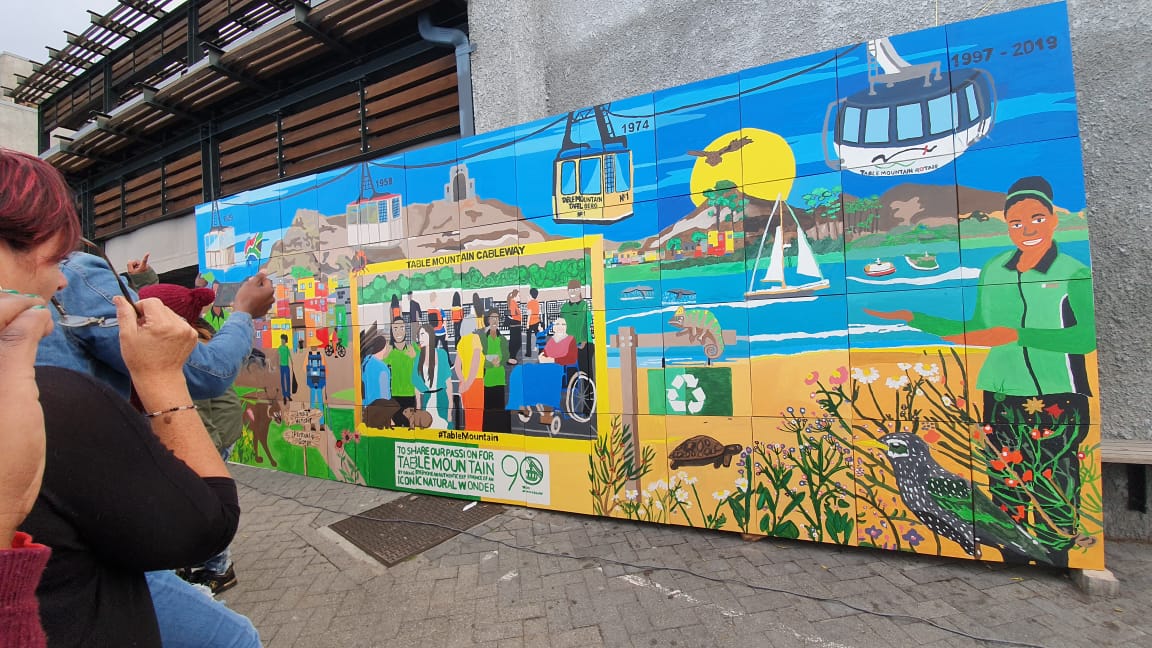 IMPROVING THE
VISITOR EXPERIENCE
TMACC continues to improve the visitor
experience in the following ways: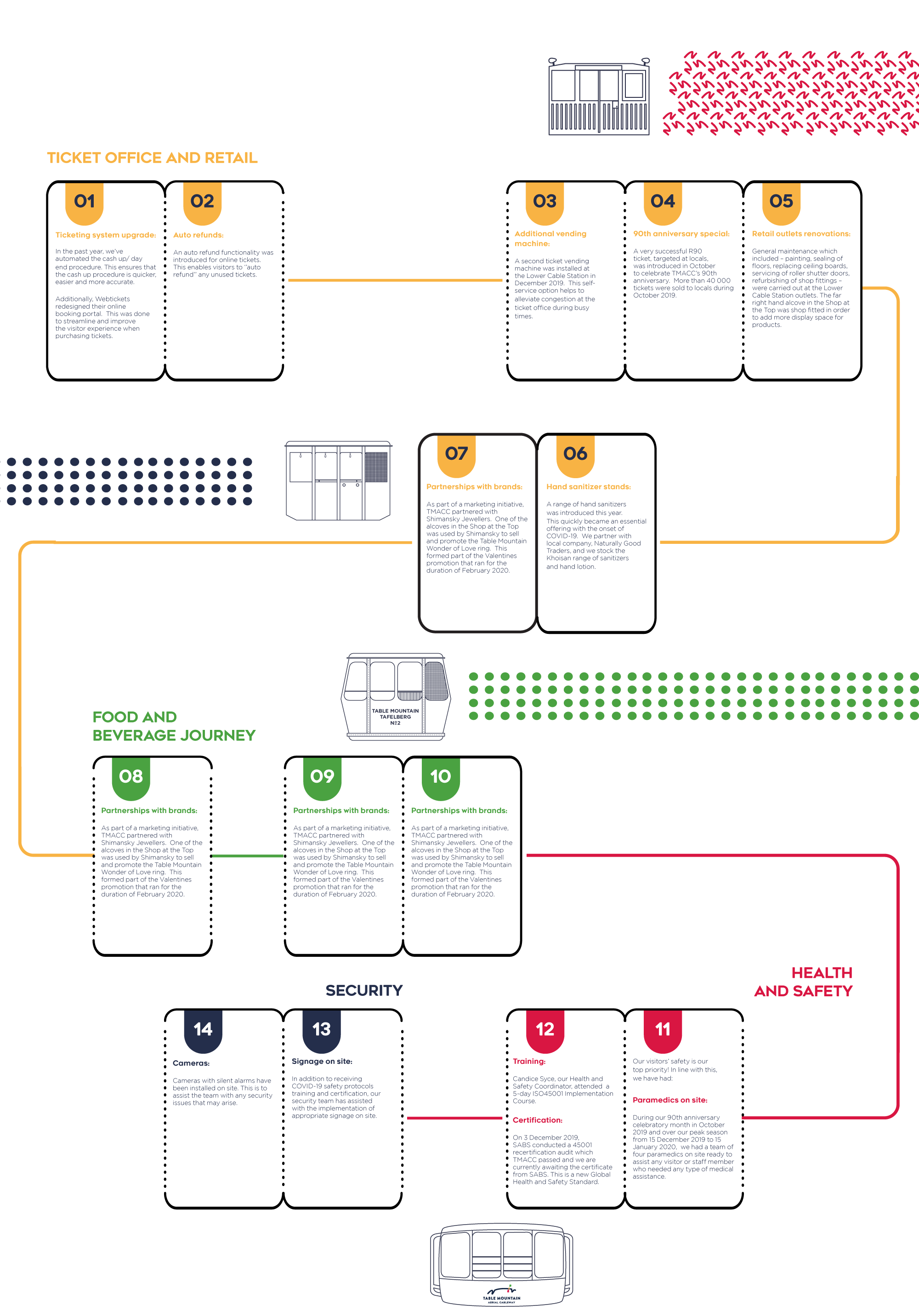 NUTS
AND BOLTS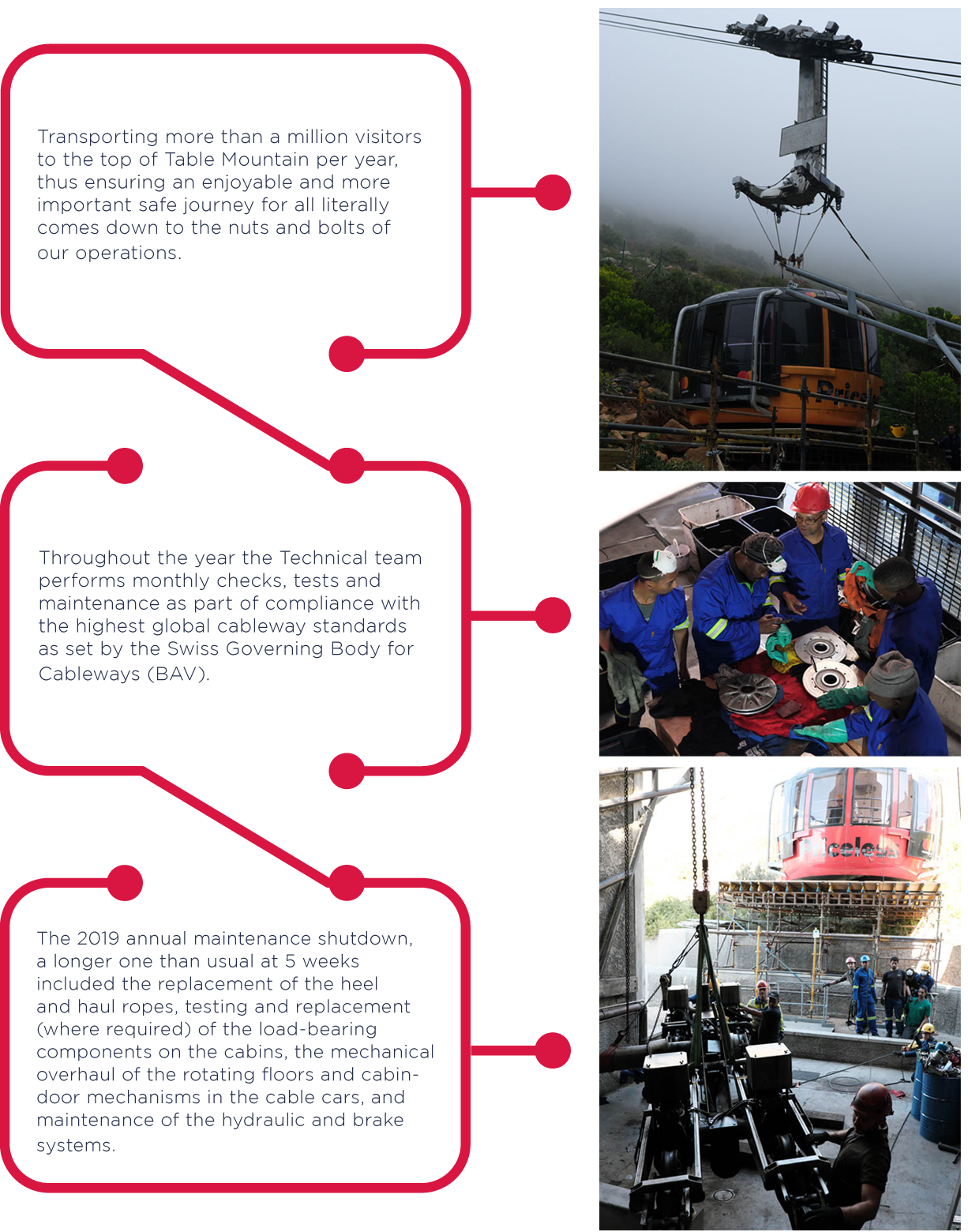 OUR PROUD
ACHIEVEMENTS
2019 African Responsible Tourism Awards for Best Resource Management

Table Mountain is named Africa's Leading Tourist Attraction in the World Travel Awards

Recertification of ISO 14001

TMACC's Carbon Neutral status is announced

2016 Cheapflights Travel Awards: Best South African Attraction

Recertification of ISO 14001

Attained Level 3 B-BBEE rating

African Responsible Tourism Award - Best single resource management: Water Management (finalist )

Heritage Environmental Rating: Diamond

2015 Lilizela Tourism Awards: Provincial Visitor Experience of the Year

Table Mountain is named as Africa's leading tourist attraction in the World Travel Awards

TMACC TripAdvisor's Certificate of Excellence for the quality of reviews received over the past year

Retained Level 4 B-BBEE rating

SANParks Cape Regional Achievement Award: Business Partner of the Year

Imvelo Award for Responsible Tourism – Best single resource management: Waste Management (finalist)

Attained Level 4 B-BBEE rating

SKAL International Award for Responsible Tourism: finalist

Attained Level 5 B-BBEE rating

Table Mountain is named one of the New7Wonders of Nature

Overall winner of 2011 Imvelo Award for Responsible Tourism

Health & Safety Management System is OHSAS 18001 certified

SANParks Cape Regional Achievement Award: Business Partner of the Year

Heritage Environmental Rating: Platinum

Mail & Guardian Greening the Future Award: finalist

South African Tourism's Attraction of the Year Award: finalist

Re-certified as ISO 14001-compliant

Imvelo Award for Responsible Tourism Best Single Resource Management: Water Management (winner)

Heritage Environmental Rating: Silver

Ishkus Power Achievement Award Business Partner

of the Year (in recognition of energy savings)

SANParks Cape Regional Achievement Award: Business Partner of the Year

Imvelo Award for Responsible Tourism – Best Overall Environmental Programme (finalist)

Table Mountain becomes a World Heritage Site

Our Environmental Management System is awarded ISO 14001 certification

The Green Globe Achievement Award: a commendation for Environmental Management and Awareness in our first year of membership

EPPIC (Environmental Planning Professions Interdisciplinary Committee) National Premium Award for Integrated Environmental Management: in recognition of the environmentally sensitive way in which the Cableway was built and is operated

Fulton Commendation: for excellence in use of concrete (during the 1997 upgrade)